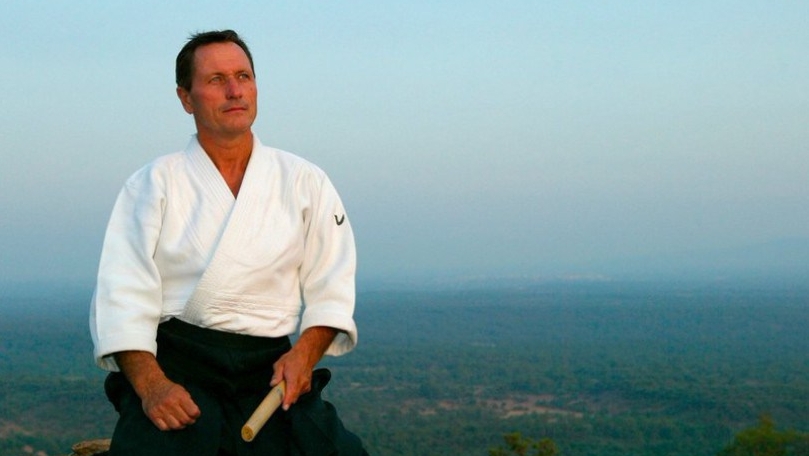 Christian Tissier was born on February 7, 1951 in Paris, France. He began aikido at the age of 11 under the Jean-Claude Tavernier in his native city and soon on moved to train under the Mutsuro Nakazono, 7 Dan Aikido Aikikai. In 1968 Christian received a 2nd Dan from Nakazono Sensei and made a plan to go to Japan after.
Tissier Sensei joined the Hombu Dojo when he was only 18 years old. To be able to stay in Tokyo he had to find a job there. And soon after arrival he made his living as a model and a French language teacher but his main goal was Aikido of course and he joined as many classes as he could . He made a strong relationship with the Ueshiba Moriteru, Morito Suganuma, Seishiro Endo, Miyamoto Tsuruzo, Yoshiaki Yokota and many others from the time. His favorite teachers were Seigo Yamaguchi, Kisaburo Osawa and Kisshomaru Ueshiba. He served them as an uke during the demonstration and classes.
During his stay in Japan Christian Tissier also did Kenjutsu under Inaba Minoru, Kickboxing, Karate, Judo, Kendo  and studied Japanese language. Sensei spent 7 years in Japan instead of a half-year that he planned and got promoted to a 4th Dan when Seigo Yamaguchi told him to go back to France and teach there for what he collected through the period. This is how Cercle Tissier school was created. Cercle Tissier is one of the biggest martial arts schools in Europe. School does have Aikido, Judo, Karate, Jiu-jitsu, Boxing, Hapkido, Haidong Gumbo, Kajukenbo, Ko-budo, Krav Maga, Kung Fu Dahara, MMA, Ninjutsu, Tai-Chi, Fitness, Yoga and dance classes with the very best professionals as teachers.
He is became a founding member of the FFAAA which was created in 1983 and has over 25000 practitioners in 800 clubs. He received 5th Dan Aikikai in 1981, 6th Dan in 1986, 7th Dan in 1998 and was a first one ever non-japanese instructor to receive a status of Shihan.
What's more important about the Christian Tissier is the exceptional Aikido style he developed. Tissier Sensei gave an uncountable number of the seminars anywhere you can imagine. He  serves the International Aikido Federation as an instructor during congresses and as a technical coordinator and demonstrator during major events such as the World Combat Games.
Christian Tissier Shihan is a main teacher of the high ranked aikidokas like Bruno Gonzales (6th Dan Aikikai), Pascal Guillemin (6th Dan Aikikai), Vasillis Nykteris (5th Dan Aikikai) etc.
Tissier is an author of the multiply books about the Aikido. There's even an app named Christian Tissier Aikido on the PlayMarket and AppStore.
In 2016 Christian Tissier, Miyamoto Tsuruzo and Jiro Kimura were awarded with the 8th Dan Aikido Aikikai by the current Doshu Moriteru Ueshiba. He is the only one European with this rank and now has even more influence on the world of Aikido.
To follow Tissier Shihan please use next pages: Christian Tissier Shihan facebook page, Le Cercle Tissier facebook page and Youtube has loots of his videos with him.
Related articles: Christian Tissier interview on Kombat Sports TV Channel with a translation and Christian Tissier: On Revitalizing Aikido.